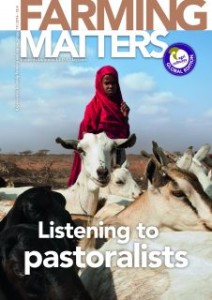 The article "Better approaches in support of pastoralism" by VSF International has been published in the December 2016 issue of the magazine Farming Matters, dedicated to pastoralism.
"Listening to pastoralism" is the latest issue of Farming Matters. It explores the different ways pastoral societies are joining forces to challenge the policies that undermine their culture and way of life.
For millennia, pastoralist societies have managed the rangelands of the world's most challenging environments, producing food and providing ecosystem services for millions of households. The experiences, opinions and perspectives presented in this issue highlight the importance of pastoral societies for agroecology and the transformation of entire food systems.
The article by VSF International, "Better approaches in support of pastoralism" presents the results of the wide consultation process with pastoralists' CSOs that has been realised in preparation of the Farmers' Forum 2016. The article outlines some key aspects to promote sustainable pastoral development, and recommendations from the pastoralist representative from three continents.
Read the article from VSF International