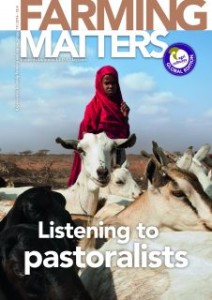 Article published in the magazine Farming Matters
By Margherita Gomarasca and Michele Nori
December 2016
Pastoralism is a way of life for between 200 and 600 million people. Despite this, the future of many pastoralist societies is under threat. Representatives belonging to more than 100 pastoralists' organisations from 38 countries endorsed a statement expressing the needs and priorities of pastoralists. Outlined in this article, the statement is a call for the rights, culture and knowledge of pastoralists to be recognised, valued and supported.
Download: